I have been patiently, or not so patiently, waiting to post these images from Hailee and Tiffany's New Years Eve wedding in Kansas City at the Midland Theater. This wedding was a first on many levels for me. Most importantly it was my first time being a same sex wedding photographer. It was also the first time photographing a wedding at the Midland Theater in Kansas City. I loved every minute of witnessing these two girls commit to each other. Wirken Photography has had the privilege of documenting all of Hailee's sibling's weddings so it was an honor to be with this family again for the last child to tie the knot and they went out with a bang! This wedding was so full of love I am pretty sure that theater was about to burst. There was lots of talk about #lovewins that night and I can certainly attest to the truth of that statement. Love most certainly won at the Midland Theater in Kansas City on New Years Eve. No doubt. So please sit back and enjoy what I and Brandon Parigo witnessed on this fine night in December. What a perfect way to round out 2015.
Here are a few of my favorite images from the night including a special teaser video from Brandon. Enjoy!
Wonderful moment while Hailee and Tiffany were listening to their friend do a reading at the ceremony.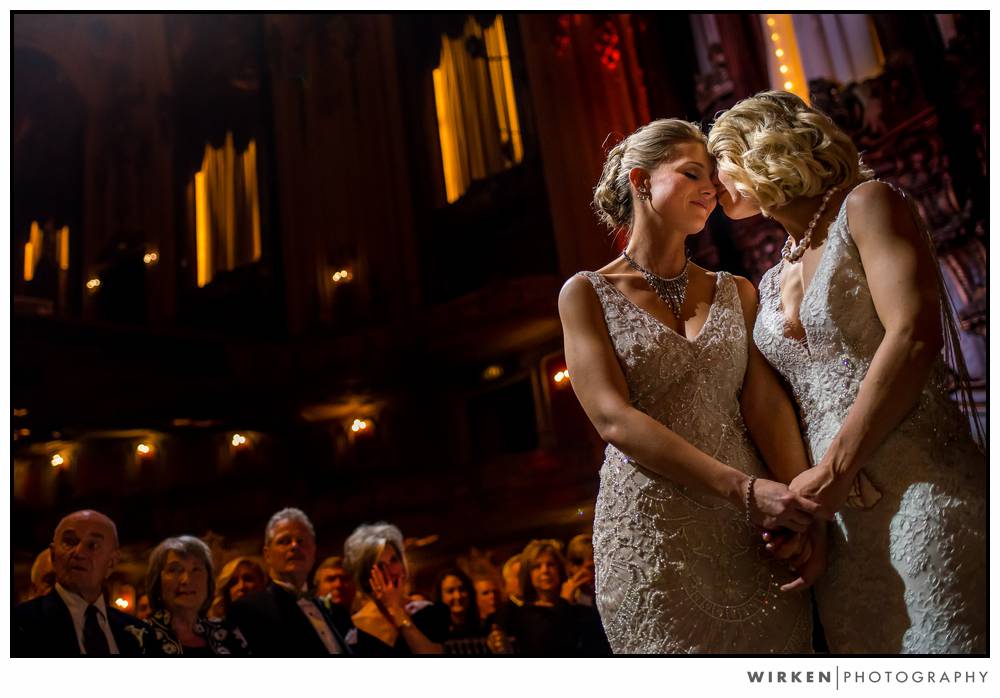 Hailee surprised Tiffany with a celebrity impersonator drag show at the reception. Here they are shaking it off to Taylor Swift.
The end of the night back at their loft sharing a moment by the glow of neon lights.